Letter from the President:
Welcome to the fourth Wagner Quarterly for 2013.
This has been an amazing year for Wagner lovers. This, of course, is hardly a surprise: by definition, bicentenary celebrations happen only once, and we are extremely fortunate to have been able to enjoy this one. There have been Ring performances all over the world, to a degree that I suspect has never been seen before, and probably will not be seen again for a very long time...perhaps not for another hundred years!
The one extremely sad note during the course of the Melbourne Ring Cycle festivities has been the death of Elke Neidhardt. Elke became an icon to Wagner lovers after the unveiling of her amazing production of the Adelaide Ring in 2004. There were aspects of her production–the "Wunderbar" amongst them–which will always be remembered as creating the benchmark for certain scenes from the Ring. It is a tragedy that her production will never be seen again.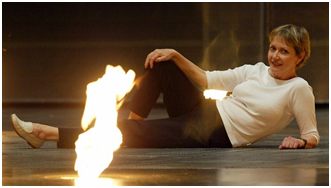 Opera director Elke Neidhardt on the set of her acclaimed 2004 Ring cycle. Picture: Toby Zerna
Since our last Quarterly, the Society has held only one event: On 6 October Susan Bullock and her husband Richard Berkeley-Steele gave a highly illuminating and entertaining talk on "Singing Wagner." As most of you know, Susan Bullock is Brunnhilde in the Melbourne Ring, and Richard is Loge in Rheingold. It is a great pity that they never get to be on the stage at the same time, or even in the same opera. But at least each of them gets the opportunity to be in the audience and to watch the other.
This is going to be a shorter letter than usual, given that I am currently in Melbourne, midway through the Opera Australia Ring Cycle. It seems to me that Sydney must be virtually deprived of Wagner lovers, because everywhere I turn in this city–particularly at the opera–there is a familiar face from home. It is a very great pity that the opera hall at the Opera House could never host a performance such as this. Apart from everything else, it would be impossible to fit more than half of a normal Ring orchestra into our pit.
This is not the place to enter into a detailed critique of the Melbourne Ring, but I can say that in general it has been a great success. From a musical point of view–which is by far the most important–it has been excellent. The orchestra, in particular, has been extraordinarily good, particularly given the fact that it was a "scratch" orchestra, which had never previously played together. Moreover, for most of its members this was their first Ring Cycle. In this regard, all credit goes to the young Finnish conductor, Pietari Inkinen, who came in at relatively short notice and has attracted universal praise and acclaim for every aspect of his management of this monumental task. The singing is generally of a very high order indeed. Amongst other stars, Stuart Skelton has been a memorable Siegmund; and Deborah Humble, who was sponsored by our society, has excelled as Erda and Waltraute. Terje Stensvold has been a very moving Wotan and Wanderer, and Stefan Vinke an amazing and athletic Siegfried. The production has, as is almost invariably the case, had its detractors. But it thoroughly achieves what Neil Armfield, the director, set out to do....namely, it tells the story very clearly, as well as depicting the shifting relationships between the various parties. This, in my view, is extremely important. With a number of current productions of the Ring, particularly in Europe, it would be virtually impossible to discern what it was all about if you were not already thoroughly familiar with the work.
Finally I would like to give our heartfelt thanks to the printers of our Newsletter and Quarterlies, B.E.E.Printmail, for adapting to the new style, and for printing and distributing the Quarterly in an incredibly efficient and speedy manner and for their generous help in presenting you with a full colour wrap-around to commemorate Elke Neidhardt and celebrate the Melbourne Ring Cycle.
Jane Mathews
The Hon Jane Mathews AO
President Wagner Society in New South Wales